Techno International New Town is situated in the heart of the city, with the perfect location, about 2 minutes from Biswa Bangla Gate, 5 minutes from the nearest Metro station (metro work in progress), 22 minutes from Airport and about 28 minutes from Sealdah station. Apart from being the City of joy, Kolkata is the natural choice and preferred destination for students from different parts of the country to pursue professional education, be it in Engineering, Management or any other field.

Our college has an excellent infrastructure, large campus and accessibility from various parts of the city. The college has a well designed administrative block and various other rooms and facilities for the students such as girls common room and boys common room, waiting room, cafeteria etc. It has provided well equipped furnished labs for basic sciences separately and other departmental laboratories as per the norms of AICTE & University. Each section of students has separate classrooms and facilities as per the norms of the AICTE. Class rooms are well furnished and ventilated. White boards, Slide Projector, Still Camera, Unlimited Internet, Multimedia Computer, Audio Systems, Unlimited Wi-Fi, etc., are present in order to ensure overall development of students. The students have all the facilities for games and sports. Adequate infrastructure is provided for indoor games, and we have a large campus for outdoor games & extra-curricular activities. A canteen and a cafeteria with both vegetarian and non-vegetarian food are also available in the college campus. Other facility consists of Drawing Hall, Conference Hall, Seminar room, Board room etc. are present for convenience. Techno International New Town provides bus facility for students to commute from different parts of the city.
Hostel facilities: Separate hostel facilities are provided for Boys and Girls in the college campus. It has adequate high security, has institute authorised warden and good discipline.

Transport facilities: Bus is available for easy accessibility for students from various parts of the city with daily basis ticket system.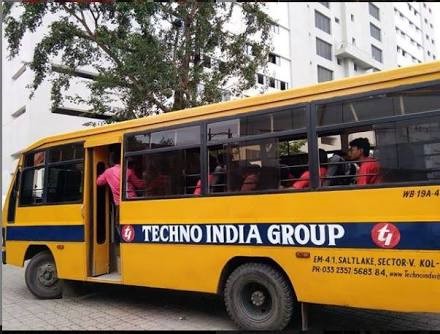 Cafeteria and canteen: Canteen facility is available and open throughout with both vegetarian and non-vegetarian food for students. Along with that we have a branch of Melbourne Cafe inside our campus for students and faculties.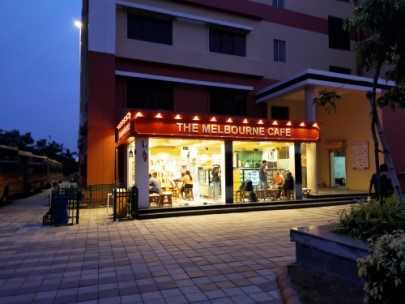 Playground: We have a great campus for all indoor and outdoor gaming facilities, which includes, badminton, table tennis, carom, a neat basketball court, football ground. Nets for cricket practice, gymnasium and so on. We have separate common room for boys and girls. Annual sports is organised ever year.
Extra curriculum: TINT is full of talent and extra curriculum activities. We have Cultural club, Hridmajhare Music club, Photographic club, Aesthetica Arts club, Entrepreneur club, Litwits Drama and Literary club etc, with great participation of students.
Library: Access to information is a vital key in developing the individual's potentiality. TINT has provided a central library consisting more than 10,000 volumes of books and adequate number of journals. All the latest editions of books both for reference and text are available in this library.

Healthcare and Counselling facilities: Emergency first aid facility always available. A doctor visits thrice a week at a convenient time. A professional counsellor visits twice a week for any assistance or issue required.

Utility services: Photocopier outlet available 24x7 inside campus. Large parking facilities available. Not only that we also have eco-friendly initiatives of solar heating, rainwater harvesting and paper recycles.