AY 2017-2018
FDP on Sensors, IoT and Security
The Department of Computer Science and Engineering, TINT have organized a Faculty Development Program on the topic "Sensors, IoT and Security" under the banner of Electronics and ICT Academy, NIT Patna in association with Maulana Abul Kalam Azad University of Technology, West Bengal during 13th October- 18th October 2017. at the premises of the university where faculty members from various institutions have attended the FDP. The prime objectives were:
The relevance of IoT in different applications.

The wide range of sensors and its usability in solving different problems.

The various mechanisms of enabling security in different systems using IoT devices .
AY 2020-21
FDP on Applications of Machine Learning
The Department of CSE, Techno International New Town organized a Faculty Development Programme on " Applications of Machine Learning". The event was scheduled from 04 - 9th January, 2021 and includes two lecture sessions along with a hands-on training session each day. The hands-on training is focused on AI using MATLAB, Introduction to R Studio and Machine Learning using Python. The participants will have hands-on experience in classification, clustering, linear regression, model training and deployment, and building deep learning networks. There will be supervised and unsupervised learning hands-on experience sessions with Scikit-learn, different ways of optimizing the trained models, building of deep learning networks and identification of neural network learning patterns. FDP on Applications of Machine Learning
Our prime objectives are:
To update the participants about the state of the art technologies in Machine Learning Techniques.

To provide hands-on exposure to the participants on the Machine Learning Techniques.

To enable the participants to learn about industrial, pedagogical and real applications of Machine Learning Techniques.

To empower the participants for the teaching and learning capabilities with emphasis on improving their teaching skills on advanced topics of Machine Learning Techniques.

To give exposure to the participants about the emerging trends and research opportunities in Machine Learning Techniques.
Seminar on Laser, Butterfly Effect and Secure Communication
The Department of CSE, Techno International New Town organized a 3-hour seminar on Laser, Butterfly Effect and Secure Communication. It was conducted on 10th August, 2018 in the 2nd half, scheduled at 2pm-5:30 pm held at the language lab of the institute.The resource person chosen to deliver the seminar was Dr. Dhruba Jyoti Biswas--Raja Ramanna (Fellow Former Head, Laser & Plasma Technology Division Bhabha Atomic Research Centre ). As the topic was cross-domain and not in sync with any specific stream, hence many attendees were of core engineering streams like electrical,electronics and mechanical engineering. Also, faculty members along with students of other institutions had attended the seminar. The main objectives of conducting the seminar are as follows:
To create an awareness of the applications of laser technology in different fields of engineering .

The challenges faced in the implementation aspect of laser technology

Chaos theory and its relevance on Butterfly effect

The importance of security in digital communication with the minimum features it should comply with.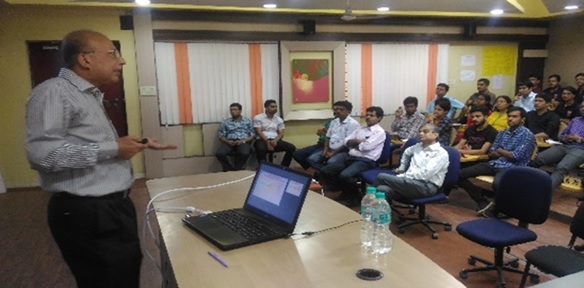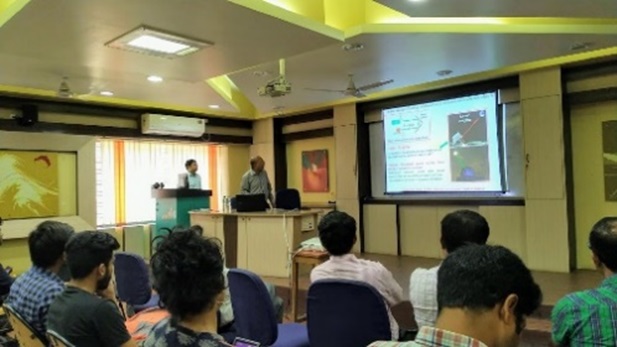 AY 2019-2020
FDP on IoT and Its various application
The Department of Computer Science and Engineering has organized 5-days FDP on "IoT and Its various applications" under the guidance of honorable Director of TINT, Prof. (Dr.) R. T. Goswami.

Date: 6th January - 10th January, 2020

Faculty Coordinators: Prof. Tanusree Chatterjee
Prof. Debraj Chatterjee

Number of Participants: 26
Agenda of the workshop:
The aim of the FDP was to build a knowledge base of faculty members so that they can gain exhaustive knowledge of IoT which is a research-based interdisciplinary subject encompassing the fields of computer science and electronics. The main focus of FDP was to give pragmatic training to the participants on Arduino and ESP 8266 WIFI Boards for IoT enabled platforms. The main objectives of this programme is to introduce the participants to the amazing world of IoT and its fascinating applications.
Major Course Contents:
Introduction to IoT, Current products, Open source electronics for IoT, IoT

languages and its tools.

Communication protocols, interconnections, system design and development,

latest sensors and actuators.

IoT cloud, Image processing applications in IoT.

Data management and big data analytics in IoT.

Research issues and case studies in IoT. Hands-on training sessions will be

provided with demos on real-time applications.
Key Featured :
Live lecture sessions by experts from academia and industry

Hands-on sessions on many IoT applications

Follow up sessions and discussion forum on research problems and internships opportunities for students