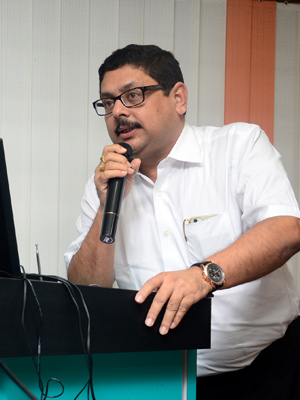 It is a great pleasure and honour for me to serve as the Director of Techno International New Town. The College was established in 2005 under the renowned Techno India Group to provide a significant niche in the education and research of science and technology.
TINT is taking bold strides towards making contribution to the advancement of technology and preparing the next generation of technocrats who will integrate innovation and lead the way towards sustainable growth of technological resources. The Institute is committed to create an ambience for nurturing innovation, creativity and excellence within its students.
We emphasise on developing leadership skills and grooming the overall personality of our students. The fine balance between academics and co-curricular activities at
TINT enables the students to enjoy the college life to the fullest. We are confident that all our efforts will grow into significant levels of achievements in the larger world of academics and industry. Hopefully, our labours in all the major areas of science and technology will produce fruitful results in academic innovation, journal publications, research in the areas of technology and science.
On a final note, I request all to take care of themselves and their families during this difficult time of COVID crisis. The virtual teaching-learning process since the onset of the pandemic has enabled the students to continue their education smoothly in the face of this adversity. I hope that that we will soon embark on the usual journey of academic activities and make TINT one of the centres of excellence in education.
-Dr.Radha Tamal Goswami
Email id: This email address is being protected from spambots. You need JavaScript enabled to view it.